Business Studies
Me and My Money is a Unit of Learning on Budgeting and Household Management and has been developed in consultation with Junior Cycle for Teachers (JCT) and is designed to be used by Business Studies teachers in the classroom.
Business studies aims to stimulate students' interest in the business environment and how they interact with it. It develops skills, knowledge, attitudes and behaviours that allow them to make informed and responsible decisions with all of the resources available to them, ensuring their and society's well-being, while becoming more self-aware as learners.  
(Business Studies Specification, P.5)
This Unit of Learning is designed to build on students' prior learnings and to develop knowledge and understanding for further study and possibly make connections with their learning in other subjects.
---
Links to Learning Outcomes
The specification focuses on improving students' understanding of the business environment and developing skills for life, work and further study through the three interconnected strands of Personal Finance, Enterprise and Our Economy.
Each section in this Unit of Learning is linked to the Learning Outcomes from Strand 1: Personal Finance and Strand 3: Our Economy in the Business Studies specification as this best aligns with the CCPC's mandated responsibilities. Learning Outcomes from within Strand 2: Enterprise, may well be drawn upon/supported while engaging with this Unit of Learning.
The integrated nature of strands and elements;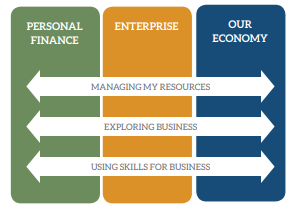 Source: curriculumonline.ie. For the full Business Studies specification click here. Please let us know your experience of using the resource via the social media links at the bottom of this page.
---
Haven't found what you're looking for?